Respiración Artificial, for bandoneon, string quartet and electronics (2014)
Mirta Wymerszberg, bandoneon
JACK Quartet:
Christopher Otto, violin
Ari Streisfeld, violin
John Pickford Richards, viola
Kevin McFarland, cello
Performance
Respiración Artificial was premiered on March 15, 2014, at Meany Studio Theater, as part of the Studio Series concert produced by UW World Series in collaboration with the School of Music and DXARTS.
About
Respiración Artificial (Artificial Breathing) was specially composed for Mirta Wymerszberg and the JACK Quartet. The piece is about breathing cycles. The bandoneon has big bellows, which allows the player to hold a note for a very long time and to produce extremely powerful sounds. The timing of the inhale and exhale of the instrument was used to define the time structure of the piece. Rather than treating the bandoneon as a soloist, the piece integrates it with the string quartet, creating a meta-instrument whose sound is transformed gradually over the length of the piece.
Technology
The electronics also have a key role in the piece both as a catalyst for the spectral blending process (using my ATS spectral modeling system), as well as spreading sound in the space by means of ultrasonic sound beams. This technology, developed in DXARTS, allows the formation of highly focalized beams of sound that can be steered by electronic means moving around the audience and refracting off the walls of the hall. This was the first time this technology is used in a music concert.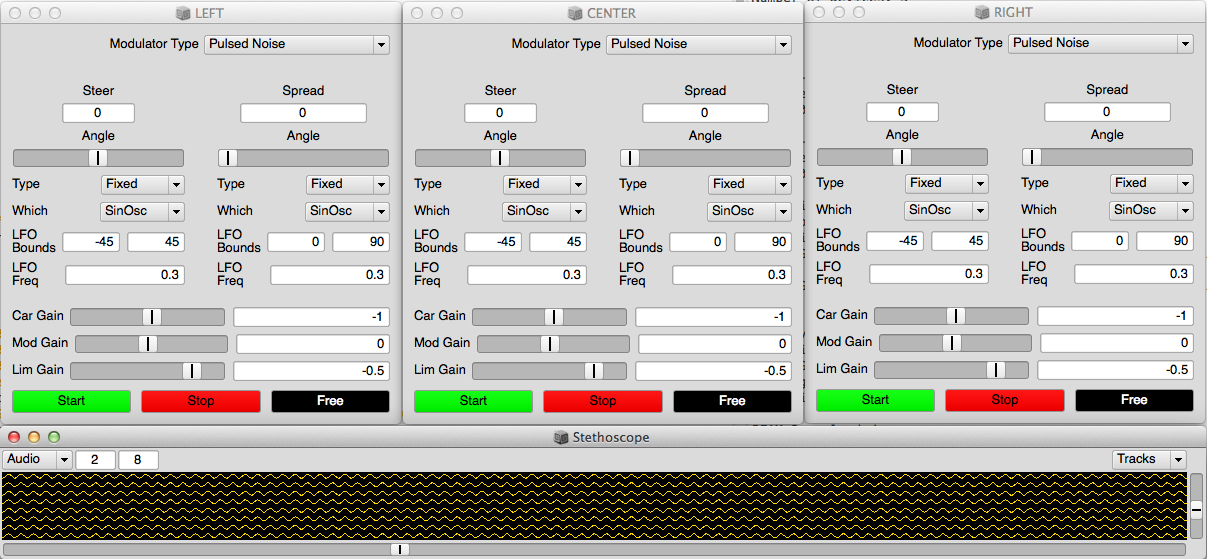 Respiración Artificial: Beam Steering Interface
Credits
Many thanks to Don Craig for developing the iPad app for the score of the piece, and to Michael McCrea, Jo Anderson, Ania Stachurska and Marcin Paczkowski for their help with different aspect of the production of the piece.