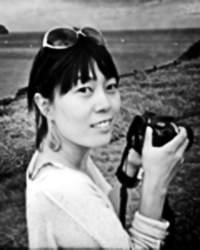 Biography
Ha Na Lee was born in Seoul, South Korea. She works primarily in the mediums of video, new media, installation art, and experimental film. Her artwork focuses on portraying an individual's experience of psychological and physical trauma in a poetic narrative. She is especially interested in exploring these traumas by creating bodily and cinematic experiences and spatializing fragmented narratives in the form of interactive and immersive environments.
Lee earned a Ph.D. from the University of Washington's Center for Digital Arts and Experimental Media (DXARTS) in 2016.
Lee's work has been exhibited in a number of solo and group exhibitions, and her films have been screened in the United States and internationally in South Korea, Japan, Taiwan, Puerto Rico, Spain, and the Netherlands. Lee and her collaborator James Hughes were invited to present their work at Currents: The Santa Fe International New Media Art Festival in 2014 and 2015. She recently received GAP grants at Artist Trust in 2015, in 2014 she was receive the dARTboard award from the Vilcek Foundation in New York, and was the recipient of the New York Foundation for the Arts Fellowship, the Goldberger Graduate Research Fellowship at Stony Brook University in New York, and others. She currently lives and works in Austin, Texas.
Related Events
"Crotchets, Quavers...and Silicon Parchment," A Two-night Festival Of Interactive Art -

January 23, 2014 - 7:30pm

,

January 24, 2014 - 7:30pm

"Crotchets, Quavers...and Silicon Parchment," A Two-night Festival Of Interactive Art -

January 23, 2014 - 7:30pm

,

January 24, 2014 - 7:30pm