Submitted by Ewa Trebacz on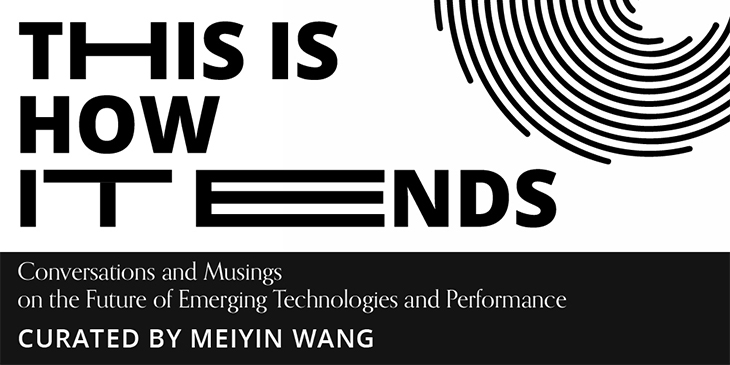 DXARTS faculty James Coupe and Thomas Deuel join conversation with Director Annie Dorsen and Producer Andrew Kircher as part of an event at Town Hall, "This is How it Ends", on Saturday, May 18, in Seattle. The event is presented by Town Hall Seattle, Meany Center for the Arts, and UW School of Drama and curated by Meiyin Wang.
WHEN: Saturday, May 18, Doors at 12PM (noon).
WHERE:
The Forum at Town Hall (west entrance)
1119 Eighth Avenue
Seattle, Washington 98101
---
---
How can the arts inform new directions for emerging technologies? From the curatorial mind of producer and director Meiyin Wang comes a collaborative exploration of the intersection of technology and the arts: This Is How It Ends. Through a series of performances and panel discussions, Wang introduces us to artists and technologists who are conceiving of ways the arts can disrupt, inform, and influence emerging technologies. Hear from musicians, theatrical directors, and filmmakers, as well as digital artists, game designers, and experts from all walks of art and tech, all united to explore the ways technology can be impacted by the concerts of art: language, space, corporeality, materiality, time, emotion, and inclusivity. Join us for an idiosyncratic combination of panel discussions, lectures, demonstrations and performances that ruminates on the future/s of performance and technology.
1-1:10p         Welcome and Introduction Meiyin Wang (Curator)

1:10– 2p        Making Art with Scientists, Janani Balasubramanian (Artist)

 2-2:45p         The Encephalophone: from experimental musical instrument to clinical trials Thomas Deuel (Neuroscientist, Musician and Neurologist)

3-315p          BREAK

3-3:50p         Hidden Mechanics: Art contending with technology, Annie Dorsen (Director and Writer), James Coupe (Artist, UW DXARTS). Moderated by Andrew Kircher (Director, Devised Theater Initiative, The Public Theater)

4-4:50p         The Future of Story: who determines the next narratives? Susie Lee (Artist, Entrepreneur, Creative Director), Dafina Toussainté McMillan (Co-founder, Crux), Moderated by Meiyin Wang (Producer, Curator)

4:50–5p          Science Jokes and Joke Science, Ahamefule J. Oluo (Comedian, Musician)
5-6p Invited reception
This event was made possible by a grant from the Mellon Creative Fellowship.
Seattle Town Hall's Arts & Culture series elevates the voices of local artists while bringing world-renowned cultural icons to Seattle audiences. The series celebrates music, photography, sculpture, philosophy, heritage, and traditions around the world that enrich our lives.